The evolution of homes over the past 40 years has been remarkable. Part 2 of our series takes a look at the transformation of countertops. In the 1970s, and many years prior, Formica was basically the only choice. It was invented in 1913 and reigned supreme for decades. In the 1980s, Corian gained considerable popularity. By the 1990s tile countertops made an appearance. At the turn of the century, granite started coming on strong. But 20 years later, many homeowners are seeking a new material. Welcome quartz…
"I Thought I Wanted Granite Countertops"
"You need granite countertops to sell a home."
That was the declaration of our realtor. That was in 2016 when we decided to downsize and sell our home after 25 years. "Really? But these are Corian countertops, and we have an integral sink." Ours was a platinum gray granite look – not as exciting as the choices today but it still looked great. What was definitely dated was the design of the kitchen with the sink on a 45-degree angled peninsula with a 42" high breakfast bar. What can I say? It was a house of its time. Long story short, we did not replace the countertops and we were still able to sell our house in a timely fashion.
Now, the new house had granite countertops included! We selected a warm granite with a uniform grain in the kitchen and black granite in the master bath. And we were now in the granite club with all the cool kids. When we closed on our new house, the builder gave us a list of all the things we needed to do to maintain our granite counters. "Use this cleaner, make sure to seal it with this spray once a month, and don't let red wine sit too long on the counter as it will stain."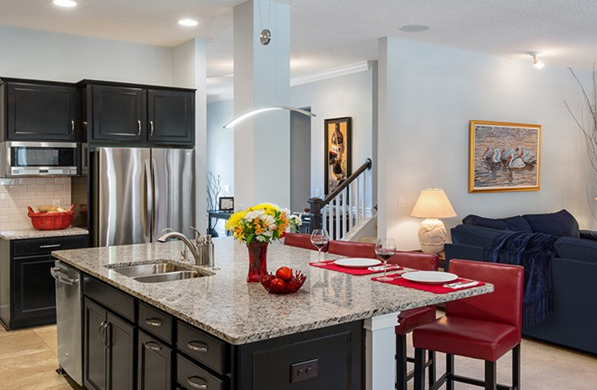 Wait – what? I must routinely "seal" my countertops? Does anyone actually keep up with that? And red wine – we never drink that – much. Well, we certainly don't waste red wine by spilling it – but I digress.
What we discovered is that granite was high maintenance – not exactly what 55+ empty nesters are looking for in this stage of our lives. Despite my best efforts, the counters were always a disaster. The granite along the edge of the cooktop was getting darker. That was from the overspray when I would spray my pans with oil. Excess spices used in cooking would disappear in the pattern of the granite only to be discovered later when I ran my hand over the countertop and discovered the mess from feel. Gross. Wasn't that where we spiced their chicken prior to cooking it? And isn't raw chicken a source for salmonella?
Four years after moving in, we ripped out our countertops and replaced them with the new material en vogue: quartz – Cambria to be specific. Wow; what an improvement! Now I can see when my countertops are dirty, and our selection really brightened up our kitchen. While we were at it, we replaced that nasty stainless-steel sink that was constantly covered with water spots.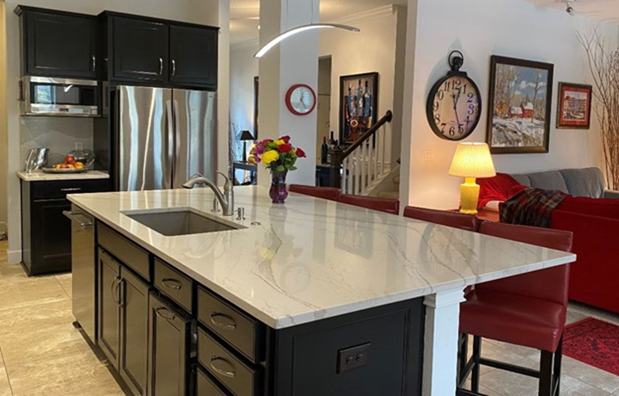 -Deryl Patterson, AIA, Housing Design Matters
If you are considering building a house, contact us today! View our available lots, a sampling of our floor plans, or visit our model home/sales office/ selection center to learn more!
Model/Sales Office/Selection Center
1100 North Lake Park Blvd.
Carolina Beach, NC 28428
(910) 520-5056