Clean, fresh, airy, light, and bright! Who wouldn't want to describe their home in these terms? That doesn't mean your house needs to be entirely white on white. Cool colors in shades of soft blues, greens, and grays are also aesthetically appealing. With a few simple changes, that are relatively inexpensive and easy to implement, your home will feel bright, welcoming, and spacious!
Window Treatments
The best way to brighten a house is to let the sunshine in. Drapes and valences should frame the windows to add softness and color – but never to block the light! Pull the drapes back as far as possible – maybe even with a longer curtain rod. Lift any low-hanging valences up so the bottom of the valence is at the top of the window frame blocking no light. Window blinds should be adjusted to let in as much light. White window blinds can be turned to let light in. You can even lift them halfway up. If the blinds are dark wood, lift them all the way up if the room needs privacy. Remove them altogether if it is a public room.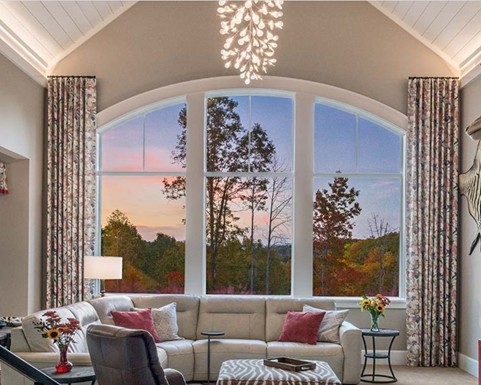 Replace Light Bulbs / Add Lights
Look at all the artificial lights in the house. If they still use incandescent bulbs, you should replace them with brighter LED bulbs. Not to mention the LED bulbs use less energy and produce less heat. You can also vary the color of your light bulbs. Once during a photoshoot, we replaced the recessed cans with "daylight" bulbs so their light would be the same color as the daylight coming through the windows (trust me, you want a photographer with borderline obsessive attention-to-detail). I couldn't believe the difference. I felt like grabbing my sunglasses.
  Under-cabinet lighting is a simple, high-impact solution, especially if the backsplash and countertop are light in color. A friend of mine who had dark espresso cabinets added LED rope lights above and below her cabinets. Wow, what a difference that made. I'm told the expense is in the transformer. Once you have that, run the rope lighting everywhere you can.
Reflective Surfaces
Walls, floors, and ceilings all have the potential to reflect light – if they are light in color. That's why most ceilings are white. If you have a dark floor, consider a light paint tone for the walls and ceilings. If you have a dark wood floor, could you refinish it to a lighter color? If not, perhaps a light-colored floor rug can cut down the amount of dark floor. Don't forget the walls and ceilings in your outdoor living. A dark wood ceiling looks rich and warm but also absorbs light instead of reflecting it. Painting a wood ceiling white is certainly on-trend and will allow more reflected light to make its way into the home.
Furnishings
If the home is furnished, look around. Start with the easy stuff like replacing linens and towels with lighter ones. Budget permitting, consider replacing dark upholstered furniture. We once replaced our dark blue sofa with a light gray one – the difference felt like night and day as dark colors eat light (as was the subject of a previous blog). Add light-colored throw pillows – maybe even a bright pop of color.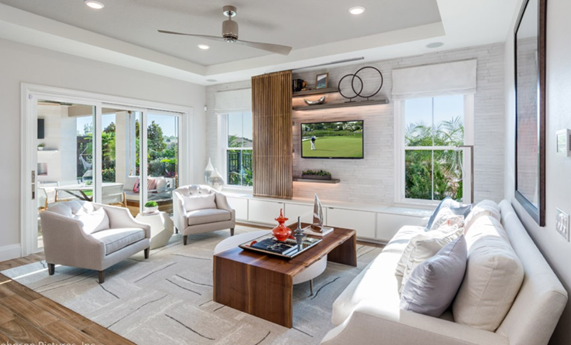 Cabinets and Countertops
If the kitchen has dark-colored cabinets, you can paint them rather than replace them. I'm told you can do this for a fraction of the cost and turn it around in days, not weeks like replacing the cabinets would be. This would also apply to the owner's bath if it's too dark. We recently replaced our granite countertop with a lighter colored Cambria (again, the subject of a previous blog) and it helped brighten up our kitchen – especially because the horizontal surface is directly below the ceiling and under cabinet lighting. Okay, that one was a bit pricey!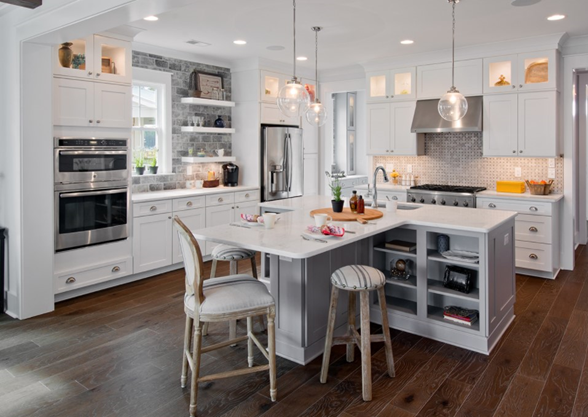 Adapted from Housing Design Matters Blog